How many of you think this is Pink?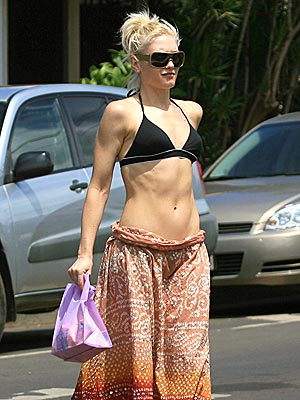 Wrong! It's Gwen Stefani. I also was fooled by the overly sculpted abs and bleach-blond hair. Not an attractive look for a woman.
Day 3 on the (full-time) job. I've spent much of the past three days scurrying about — rearranging my office and consolidating markers and tape and glue sticks into manageable piles (and then chucking them — I'm not a freaking preschool teacher), attending meetings and taking notes and trying to figure out how the heck to do my job, being physically and mentally exhausted. Working at a non-profit is so unlike working for a big company. For whatever reason — lack of manpower, lack of time — they don't have things prepared for new staff members in advance of their arrival. Email isn't set-up. The office isn't vacuumed. There's no filing cabinet. Etc. Etc.
But…the people are super friendly and almost grateful to have me. It's nice to feel needed. My only worry is that I'm not going to be able to actually do the job that I convinced them I can handle. Oh, and that I'm not going to be able to get used to waking up early again.
I have NO idea how I'm going to be to keep a full-time and a part-time job at the same time.  I already feel worn down.  How do people manage to do everything at work and still make time to go to the gym, meet up with friends, go out for drinks, play Wii?
Miss South Carolina had the opportunity to redeem herself on the Today show this morning. Her new answer:
"Personally, my friends and I, we know exactly where the United States is on a map," she said. "I don't know anyone else who doesn't. If the statistics are correct, I believe there should be more emphasis on geography in our education so people will learn how to read maps better."
Click here to read the whole article.
Still, does she sound like a well-educated 18 year-old honor student?
I wasn't hungry for dinner until 9 last night, and J had only eaten lunch a couple of hours beforehand, so we opted for something light and easy — SpaghettiO's! Seriously! When was the last time you had SpaghettiO's?
Yesterday was sort of a wash of a day. I got home from my PT job around 2 pm and putzed around the apartment for an hour or so, writing emails and cleaning up. Then I passed out on the couch next to J for two hours. I was such a zombie for the rest of the evening and crashed at 11 pm.
I'm in the market for a good book. I have so many unread titles on my bookshelf, but I'm not in the mood to read any of them. Any recommendations?
Thanks to the B's for telling me about Miss South Carolina's HILARIOUS answer during the interview segment of Miss Teen USA Friday night.
[youtube=http://youtube.com/watch?v=qQdhMSEqhfg]
J and I are now the proud owners of a Wii! Yesterday we hit Best Buy as soon as it opened so J could purchase one of the 10 they had in stock with money he got for his birthday. In addition to the actual unit or whatever it's called, he also bought the game Wii Play because it comes with another Wii Remote (additional nunchuk purchased separately).
Before we even really understood how to use the remotes, we battled each other at bowling (I won), tennis (he won), and boxing (I won). It's true what they say about the Wii – you almost get a true workout just by playing the games. I was a little bit worn out after our last round of boxing. Of course, that may just be because I was flailing my arms like a madwoman rather than properly jabbing or punching, but I just couldn't figure out how.
The activities on Wii Play actually helped us get more comfortable with the remotes. I recommended doing those before trying to play a "real" game. I learned that I'm a better Wii pool player than I am in real life, but I'm terrible at racing cows or picking odd Miis out of a crowd.

A view of my old office building from LS's new apartment

Cupcakes at Bubby's
My task at Color Me Mine

Getting a hand cramp from painting
Last night J and I celebrated a job offer I received – and accepted – by going out for Indian food and Cold Stone Creamery. Like clockwork, athunderstorm began between 7-8 pm. Every night this week it's stormed. We weren't about to let a few gazillion gallons of rain stop us from enjoying Chicken Tikka Masala, Lamb Vindaloo, and Naan at Tanduri Fusion.
Even under my clear bubble umbrella we managed to get soaked as we ran to the car after dinner. Drenched, we drove to Cold Stone, getting there just as they were closing up. We ordered an "Ours" size of Strawberry Banana Rendezvous – strawberry ice cream, white chocolate chips, graham cracker pie crust, strawberries, and bananas – but replaced the strawberry for cheesecake ice creams and the chocolate chips for Oreos. Yum!
We brought our dessert home to eat while we watched Corpse Bride on DVD, but we were so full from dinner that we hardly ate any of our beautiful Cold Stone creation. J was so full that he actually passed out during the last 2/3 of the movie, which I thought was cute. I've never seen The Nightmare Before Christmas, but I kind of want to now because I think it supposed to be even better.
As for my new job – I'm going to be the Youth Director at the local reform synagogue. It's a full-time gig, though the hours will be a bit irregular depending on what evening activities are scheduled each week. I'm excited to work with the kids and help them develop programming for the youth groups. My background in publicity will definitely be an asset in this position. You can plan an amazing program, but if you don't get the word out to the appropriate people, nobody will attend.
So I'm not going to be rich (at least not this year), but I'm looking forward to a sense of fulfillment that I think will come with the territory. As for the money, J and I bought two tickets for the $300 million PowerBall this weekend… Big money, big money!
My iPod and I are both sick. I hate summer colds. My throat started aching two nights ago, so badly that J had to go out to buy me Chloroseptic spray to relieve the pain. Today the virus has moved into my nose. I woke up congested — now I'm sneezy and runny. Ick.
Sadly, my iPod is suffering worse. It's dead. If J wasn't such a computer geek, I would just get a brand new one — one with a big, bright, color screen so I could watch TV shows and movies on it — but he knows how to open them up and replace the broken parts.  That ends up being much cheaper than purchasing a whole other iPod. Phooey.
And on the subject of weather — it's been insane here the last couple of days. Crazy thunderstorms happening out of the blue, tornado warnings and watches, things I haven't seen in a while, if ever.
It began like this: My flight back to NJ on Aug 10 was canceled, and there were no other flights I could take that would get me home in time to make my friend's bridal shower the next day, Saturday, in Long Island. And I'm a bridesmaid! The fat man behind the counter didn't care that I was going to miss the party. He wasn't moved by the mascara running down my cheeks or the snot pouring out of my nose. It didn't matter that I was crying so hard I fogged up my sunglasses (yes, I was having a mild temper tantrum). He could not get me on a plane until Saturday. End of story.
Or so I thought. I called my dad sobbing and he made everything all better. Almost. I spent 14 hours on Friday either in an airport or on a plane, but thanks to the magic my father worked on Continental, I arrived in NJ at 1:30 AM on Saturday. I had to fly from Omaha to Houston first, and then run the length of two airports to change planes, but I made it home to NJ in time to get a little sleep before heading into the city to meet LS. Together we rode the LIRR out to Long Island for the afternoon shower.
I'm pretty sure that LS and I gave the bride her favorite gift of the day — monogrammed his and hers bathrobes. So soft! After an afternoon of eating and present opening at one of her family friends' house, the bride invited us back to her house for a small family BBQ. Her family has the cutest backyard. Strands of colored lights criss-crossed overhead and tiki torches circled the lawn to keep the bugs away.
The three of us plus the bride's future sister-in-law spent the night at LS's new apartment in the city (I could see my old office building from her window). Sunday was bachelorette party day! Brunch at Bubby's and pottery painting at Color Me Mine, where I designed a large cookie jar for the bride and groom that turned out looking very Jonathan Adler.
I spent the rest of my week home doing wedding-related things with my mom. We interviewed three photographers, including the one that Deb is using for her wedding next April, investigated bridesmaids' dresses, and picked Save the Date cards. We drove all over NJ — Princeton, Morristown, Bridgewater, Bernardsville — and took the train in and out of NYC. It was exhausting, to say the least, but we were so productive. I would share all of our plans if I didn't love keeping secrets so much.
I flew back to Omaha Saturday afternoon, arriving an hour before J and I had plans to go out to dinner for a friend's birthday. It was actually our first time going out for Mexican since I got here, and the food was pretty good. Actually, the tortillas were excellent. They make them there fresh. DC friends: What was that restaurant we used to go to that had a giant tortilla-making machine out in the middle of the dining room?
The next entry will be about my trip down to Worlds of Fun in Kansas City on Sunday — and the job offer I turned down. Stay tuned!