Thursday was Sukkot, a Jewish holiday, so I didn't have work. Instead I had two doctor's appointments and an afternoon free to do some damage at the mall. I bought two pairs of shoes at DSW, including a pair of gold Coach loafers on sale from $119 to $48, and new makeup for Jess's wedding at the Lancome counter. I've never purchased Lancome makeup before, but I fell in love with a liquid eyeliner that the cosmetics associate showed me. Turns out that the color she used has been discontinued — I don't think she realized that when she was "selling" it to me. I'm quite heartbroken now.
Last night LB had a couple of girls over to watch the season premiere of Grey's Anatomy. But first we plugged my laptop into her TV (she couldn't use her Mac) and watched last season's finale on ABC.com on the "big" screen.
So what did you think of the premiere? I can tell already that Meredith's sister Lexi is going to annoy me; Meredith has since season 1. Otherwise, I don't really have any strong feelings about the show. It didn't wow me.
I feel like today is Monday because of my day off yesterday, but I am so glad it's not. TGIF!
Last night I met LB at Film Streams to see East of Eden. It was my first time watching a James Dean film. Is it just me, or does he look like a cross between Ryan Phillipe and Brad Pitt?
I'll probably have to go back and read the book now, since the movie only covers about half of the story.
Last night I had a dream that a short, stocky Asian fashion designer (I have no idea why she was Asian) came to the house I grew up in to have me try on different pairs of jeans. She wanted to see if a particular pair of curvy-fit ones would actually fit me–and they did. This excited the diminutive fashion designer very much because they were the pair that Jessica Simpson was supposed to model at an upcoming fashion show in France, but because Jessica recently took a tumble, she wouldn't be able to walk the catwalk in the them. The designer asked me if I would take her place in the show, and of course, I said yes! Then she told me that the fashion show wouldn't be until December, and I panicked that I wouldn't be able to maintain this exact weight until then.
Deep, I know.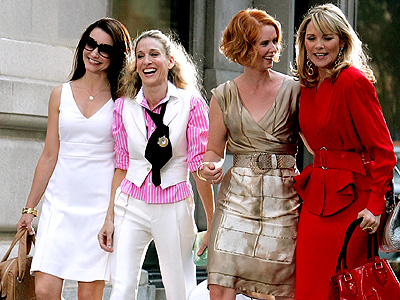 For the first time since I've arrived in Omaha, I'm actually glad not to be living in New York City right now. Why? Because they've just started filming Sex & the City: The Movie, and I imagine that pictures of the ladies on location around the city are being printed in the Daily News and the Post, as well as countless blogs and such. I mean, they're starting to pop up on People.com almost daily!
Although it's a bit late for the movie to be coming out — the S&TC phenomenon is pretty much over — I'll definitely be seeing it. We all will. And I don't want all of the good scenes to be ruined with all the photos that are being taken now! I already saw one photo that seemed like a HUGE spoiler (and I won't mention it here).
Doesn't anyone like to be surprised anymore?
Ok, I lied. Something Earth shattering did happen. I found this clip via More Ways to Waste Time.
[youtube=http://www.youtube.com/watch?v=aPo9sCqza98]