Thursday was Sukkot, a Jewish holiday, so I didn't have work. Instead I had two doctor's appointments and an afternoon free to do some damage at the mall. I bought two pairs of shoes at DSW, including a pair of gold Coach loafers on sale from $119 to $48, and new makeup for Jess's wedding at the Lancome counter. I've never purchased Lancome makeup before, but I fell in love with a liquid eyeliner that the cosmetics associate showed me. Turns out that the color she used has been discontinued — I don't think she realized that when she was "selling" it to me. I'm quite heartbroken now.
Last night LB had a couple of girls over to watch the season premiere of Grey's Anatomy. But first we plugged my laptop into her TV (she couldn't use her Mac) and watched last season's finale on ABC.com on the "big" screen.
So what did you think of the premiere? I can tell already that Meredith's sister Lexi is going to annoy me; Meredith has since season 1. Otherwise, I don't really have any strong feelings about the show. It didn't wow me.
I feel like today is Monday because of my day off yesterday, but I am so glad it's not. TGIF!
Last night I met LB at Film Streams to see East of Eden. It was my first time watching a James Dean film. Is it just me, or does he look like a cross between Ryan Phillipe and Brad Pitt?
I'll probably have to go back and read the book now, since the movie only covers about half of the story.
Last night I had a dream that a short, stocky Asian fashion designer (I have no idea why she was Asian) came to the house I grew up in to have me try on different pairs of jeans. She wanted to see if a particular pair of curvy-fit ones would actually fit me–and they did. This excited the diminutive fashion designer very much because they were the pair that Jessica Simpson was supposed to model at an upcoming fashion show in France, but because Jessica recently took a tumble, she wouldn't be able to walk the catwalk in the them. The designer asked me if I would take her place in the show, and of course, I said yes! Then she told me that the fashion show wouldn't be until December, and I panicked that I wouldn't be able to maintain this exact weight until then.
Deep, I know.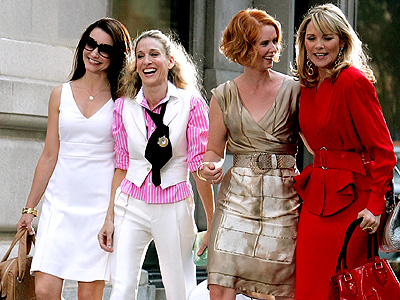 For the first time since I've arrived in Omaha, I'm actually glad not to be living in New York City right now. Why? Because they've just started filming Sex & the City: The Movie, and I imagine that pictures of the ladies on location around the city are being printed in the Daily News and the Post, as well as countless blogs and such. I mean, they're starting to pop up on People.com almost daily!
Although it's a bit late for the movie to be coming out — the S&TC phenomenon is pretty much over — I'll definitely be seeing it. We all will. And I don't want all of the good scenes to be ruined with all the photos that are being taken now! I already saw one photo that seemed like a HUGE spoiler (and I won't mention it here).
Doesn't anyone like to be surprised anymore?
Ok, I lied. Something Earth shattering did happen. I found this clip via More Ways to Waste Time.
[youtube=http://www.youtube.com/watch?v=aPo9sCqza98]
J and I didn't get out of bed this morning until noon. Noon! I have been looking forward to today for so long. Why? Because for the first time in as long as I can remember, I have no appointments, functions or meetings to attend. I'm free to be as lazy as I want — and boy, have I been lazy. I'm still in my pajamas, actually, and I highly doubt I'm going to change out of them before I need to put them back on for bed later.
Over a leisurely breakfast of bagels, lox cream cheese, tomatoes and onion leftover from last night's break the fast party at our place, J and I read the Sunday paper and flipped through all of the ads and circulars. Every Sunday I look forward to learning what's going to be on sale that week — like I need a reason to buy more things. But look, honey, it's on sale!
I learned from the "Arts" section that an Omaha native wrote the book The Assassination of Jesse James by the Coward Robert Ford, which is now a movie starring Brad Pitt and Casey Affleck. Doubt I'll see it. I also learned that Viking is publishing the 50th anniversary edition of On the Road by Jack Kerouac. I doubt I'll read it — rather, I doubt I'll read it anytime soon — but I would like to have a copy for my "library." Who do I still know at Viking?
After chatting a bit on the phone, J and I curled up on the couch and watched some shows we DVR'd last week, like last season's finale of Grey's Anatomy and an episode of Law & Order: SVU. J told me that the first time he watched the Grey's episode, when it originally aired, he and his roommate at the time were practically in tears. It didn't tug at my emotions that hard, but I did yell at the TV a couple times. Alex, what are you doing?? Tell that patient you love her!!
We also ate way too much of the profiterole-type dessert J made for last night's dinner. It was more of log of puff pastry, vanilla pudding/Cool Whip, and strawberries and raspberries. What it really was was delicious. I have such a stomach ache now.
I took a couple of pictures of our newly decorated apartment — we've finally hung some art on the wall in our living room. I was going to post them with this piece, but J hasn't re-installed Photoshop on my computer yet. My computer was acting incredibly slow and losing connection to the internet very frequently lately, so he wiped it clean and is starting to put everything back on it. My own personal Geek Squad!
I'll let you know if anything Earth shattering happens later today, but I'm guessing it's going to be much of the same — nothing. Hooray!
My Sister (10:37:10 AM): i had a really scary dream that you died. i think it means that i miss you and that you should come home soon.
My Sister (10:37:41 AM): then again, the night before i dreamt about killer cats and sharks
Jerry Orbach lived in the same building I did when I first moved to NYC at 53rd & 8th. Sadly, he passed away a couple months later. I remember seeing him several times around the neighborhood while we both lived there — I recall him wearing a silly straw cowboy hat. Once, very late at night, he was stepping out of the elevator with his wife and another couple while my friends and I were waiting to go back up.
I've loved him since Dirty Dancing and looked forward to his "witty" remarks on L&O. I became even more enamored with him after learning from my grandmother that he was originally a "song and dance" man. 42nd Street, anyone?
Now they're naming the street near my old building after him.
I wish I could've been there for the ceremony.
I can't remember a time when I've felt more tired, more often. Perhaps when I came down with mono back in the fall of 2002, but in addition to feeling exhausted at that time, I also felt sick. Now I'm just dealing with general fatigue, a continuous feeling of "wiped-out." This morning I snoozed for 45 minutes! I seriously don't even remember the alarm going off at 8 AM.
It must have something to do with the crazy weather. One week it's 90 degrees outside, and the next it's in the 50s. I don't know whether to curl up in flannel pajamas or open the windows to catch a breeze. It's sunny and humid, it's chilly and humid.  Today it's raining.
Well, I know what I want to do right now — go back to my apartment, change into pj's, and hop back into bed. What I should do is pick up some coffee at the drive-through Starbucks and force-feed myself caffeine. It's going to be a long day. Later this afternoon I need to stop by my part-time job for an hour or so to check in on a project I'm working on there. Then I have to be back at my full-time job for a 6:30 pm meeting followed by one at 7:00 pm.
Snooze.
It's funny – I never thought that the older I got, the more often I'd play video games. But my friends in Omaha are all about gaming! We bought our Wii because we had so much fun playing it with Lynn and Jon. When we went to their house on Saturday to watch the big University of Nebraska vs. USC football game, we brought our Miis on our remotes so we could play as ourselves on their system. The Huskers were disappointing, so we flipped off the game at halftime and started playing tennis and bowling on Wii — after spending a good 30 minutes helping Jamie and Dan make their own Miis.
Then yesterday we went to Eric's house for a couple of hours and learned how to rock out on Guitar Hero. I was terrible at first — I got boo'ed off stage — but by my third song I was bopping along while fretting and strumming. Now J and I are going to have to buy the game when it comes out on Wii.
Oh! And the other day we purchased some "Wii" points and downloaded Mario Bros. and Super Mario Bros. You can play using the Wii remotes by turning them sideways. How smart is that! Doot doot doot doot dootdootdoot… (that's me singing the Super Mario Bros. theme song) The original Mario Bros. is pretty bland, but J and I had a blast playing the "super" version, trying to remember where all the secret bricks are. We may have to purchase Super Mario Bros. 2 next. I remember preferring 3 when I was younger, but they don't have it available to download yet. But they do have Excite Bike! I think I stole that one from my neighbor back in the day…