I didn't realize how much I liked Matchbox Twenty until the end of their concert last night at the Qwest Center, when my throat was sore from singing and screaming and my legs ached from dancing at my seat. I surprised myself by knowing words to songs I haven't been played on the radio since 1998. (I actually remember when and where I heard their first single, "Push": Boston University's summer program, ITRP, 1997.) Except for a brief acoustic set in the middle of the two-hour show, the band oozed energy and excitement, and I happily soaked it all in. Oh, the nostalgia.
Alanis Morissette opened and gave a pretty decent performance. J is a huge fan (who knew?) and recognized nearly every song. I could only recall 4 or 5, the singles that were popular when I was in high school. I actually found her singing voice to be a little hard to understand, but I think that was because her microphone level was off. She also did some strange dance movements, twirling in place and whipping her long, long hair around in circles, and J and I wondered if maybe she was on drugs, though I don't really think that was case.
It feels funny to admit that a Matchbox Twenty concert ranks up there with some of the better concerts I've seen over the past couple of years, but it's the truth. Well done, Rob Thomas and crew.

A couple of weeks ago I started a new job at an advertising/marketing/public relations agency. I've gone back to my PR roots, and I'm quickly learning that public relations at an agency is quite different than book publicity at a publishing company.
I'm also back in a cubicle. A large, grey cubicle that I've decided I will decorate in shades of yellow and white, with some black, orange, blue and green thrown in for good measure. According to this Fortune article, I'd better make sure that when I decorate, no more than one in five objects in my cubicle are non-work-related or it may have a negative affect on my professional image.
At the moment I have three small pieces of art waiting to be hung and a calendar on display. By coincidence, three of these four objects feature images of birds. One more anything with a bird on it and I'm officially "the bird lady." Thankfully, the picture on the March/April page on my calendar is of flowers.
(image via nymag.com)
I'm kicking myself for not having seen Once yet. Friends have fallen in love with it. The song won the Oscar last night, and the real-life couple who star in the low-budget film are just so freaking adorable I can almost look past the slightly creepy age difference.
(image via nytimes.com)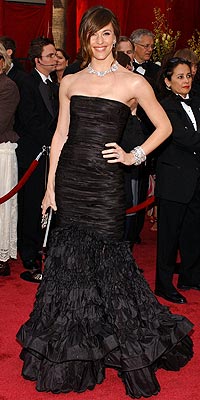 Jennifer Garner: love the whole package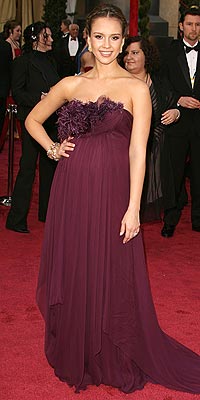 Jessica Alba: love the color, not the feathers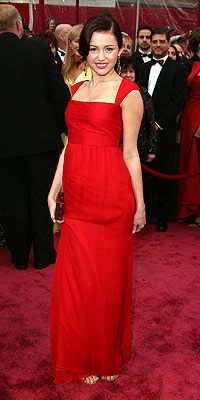 Miley Cyrus: love that it's age appropriate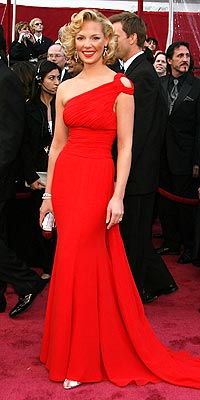 Katherine Heigl: again, love the whole package (she's found her look)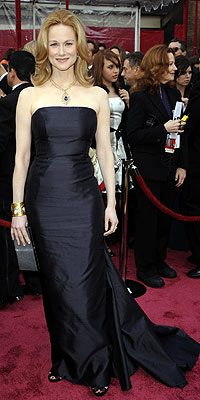 Laura Linney: love the simplicity
(all images via people.com)
Tilda Swinton: I understand that you didn't think you'd win, but there is a 1 in 5 chance that you might, you groom yourself. No makeup with that crazy orange hair? Freaky! And I won't even start on the potato sack, erm, dress.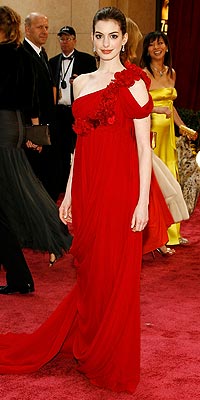 Anne Hathaway: too bold a color with such pale skin (and I should know) and unfortunate flowered trim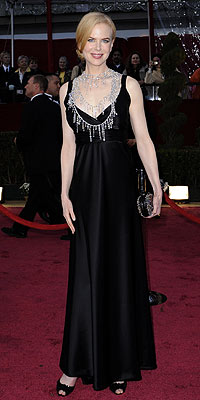 Nicole Kidman: Eat something! You're pregnant!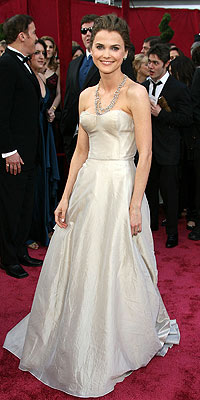 Keri Russell: No, you are not pregnant, but you still need a snack. And better posture.
Viggo Mortensen: BAD jacket. Bad, bad, bad.
And the winner of the worst dressed couple goes to:
Daniel Day-Lewis and Rebecca Miller: A black and brown tux? C'mon, Daniel. And Rebecca, your outfit is just about the worst I've ever seen. And those shoes! You thought of everything, didn't you?
(images via people.com and oscar.com)
Ashlee Simpson has a new single out, a duet with the lead singer of The Plain White T's, called "Little Miss Obsessive." It's actually not that bad.
Listen to it here.
And for those of you who are wondering–I'm 99% over my obsession with Ashlee Simpson, which began when her reality TV show first hit the airwaves.
Just don't get me started on Jessica.
Following a very easy recipe from the March issue of Real Simple, I prepared dinner last night for the two of us. Instead of buying skirt steak I used a flank steak we already had in our freezer, and J found a bag of Yukon gold/new potato hybrids, so I didn't have to decide between the two. J's contribution to the meal was fresh asparagus seasoned with lemon, thyme and salt and pepper. So simple, yet so tasty.
I shot this with my Treo in the parking lot of my office this morning. It's the thermometer on my rearview mirror. But don't be fooled. It was not -6 degrees F; with the wind chill is was -15. An arctic cold front has moved in.
And get this: Omaha-area schools are closed today so that children won't have to face the elements while walking to school or waiting for their buses. Lucky them.
This past weekend J and I drove down to Kansas City for a part-Valentine's Day, part-wedding prep weekend. We stayed at a Marriott near Country Club Plaza because we wanted to earn some Marriott Rewards points; however, we spent most of our time in the suburbs shopping at stores we don't have in Omaha. We went to Nordstrom, where I (unsuccessfully) searched for shoes to wear with my wedding dress, and Sephora, where I spent nearly $100 on makeup, among others.
Sunday morning we attended a special Wedding Party event at Crate & Barrel and had the store to ourselves (along with other engaged couples) to update our registry for two hours before it was opened to the public. Getting to the store was an adventure itself; we woke up to blizzard-like conditions, and I spent the entire car ride gasping and fearing for our safety. But once we made it, we had a wonderful time browsing through the store, debating between patterns of placemats, eating delicious food prepared by a local caterer, enjoying the beautiful floral displays created by a local florist and holding hands.
One of the highlights? Seeing Tasting Club, a book I devoted an entire year to promoting, on display in the store.
The day before I saw another DK title, A Slice of Organic Life, at Anthropolgie, one of my favorite stores, in Country Club Plaza. I had to snap a photo because, even though I no longer work there, I'm still so proud.
I got J to start drinking tea, and now he has a mug of it nearly every night.  If I owned this black and white fine bone china tea set (ahem, if someone wanted to buy me a belated Valentine's Day present), maybe we could have tea parties instead of just tea for two.
I got excited about the idea of hosting a tea party after Domino featured one in its November 2007 issue.
Speaking of tea parties, my sister wondered why I registered for so many cake stands. It's because I adore them! They make serving dessert that much more festive.
Although not for cakes, perhaps my favorite stand is this three-tiered Mariposa cupcake server that I registered for at Borsheims.
(images from 2jane.com, dominomag.com, blog.kimvallee.com and silverimpressions.com)