What a whirlwind week in the world of astrology.
On Wednesday I was an Aries, the zodiac sign assigned to me when I was born on March 22 thirty (almost thirty-one!) years ago. On a good day I was generous and courageous. On a bad day could be moody and impatient.
On Thursday I was told I was actually a Pisces. I could live with that, I thought. Maybe I've always been more like a fish (well, two fish) than a ram. As a writer, my strengths are my creativity and imagination, which are also strengths of Pisces. I'm sensitive (sometimes to a fault) and frustratingly indecisive. I'm guided by my emotions; I have the tendency to be lazy unless I'm doing something about which I feel passionate.
How did this happen? Astronomers explained that the Earth has slowly been changing its position in relationship to the sun since the study of astrology began 3,000 years ago, which has caused a one-month bump in the alignment of the stars — and has added a 13th zodiac sign, Ophiuchus.
These are the new dates:
Capricorn Jan. 20-Feb. 16
Aquarius Feb. 16-March 11
Pisces March 11-April 18
Aries April 18-May 13
Taurus May 13-June 21
Gemini June 21-July 20
Cancer July 20-Aug. 10
Leo Aug. 10-Sept. 16
Virgo Sept. 16-Oct. 30
Libra Oct. 30-Nov. 23
Scorpio Nov. 23-Nov. 29
Ophiuchus Nov. 29-Dec. 17
Sagittarius Dec. 17-Jan. 20
But now, on Friday, I hear that I'm actually still an Aries. Wait, what?
Susan Miller, founder of Astrologyzone.com, took to her Twitter account stating:
What a frenzy! You are the sign you think you are, the sign you knew since you were little! Nothing has changed!
On Good Morning America, Miller said that the stars can only be read the way the ancient Babylonians did. She explained the astrological community "made a consensus that when we go by the old formulas and the old algorithms, they work."
So, we all freaked out about sudden personality shifts for no reason? Maybe I'll hedge my bets by reading both the Aries and the Pisces horoscopes from now on.
Did your horoscope supposedly change? Which do you think is more true to your personality – your old or "new" zodiac sign?
(Zodiac signs by Parada Creations)
Happy birthday to the Brooklyn Bridge! It opened on this day in 1883 and was 50% longer than any previously built suspension bridge in the world. A year later, P.T. Barnum publicized his circus–and helped to disprove a rumor that the bridge was going to collapse–by parading 21 elephants over it.
(image source, history source)
I spied these three trends on the red carpet last night:
Dresses with poofy/frilly/drapey bottoms
Oversized earrings
Bedhead
What were your favorite looks? Least favorites? Personally, I hated all of the messy, frizzy updos. And I didn't think Sandra Bullock successfully pulled off those bright pink lips. Maybe she should have stuck with a more classic red.
(images via People.com)
Shame on me for not paying any attention to the U.S. men's figure skating team before last night's short program–especially the theatrical Johnny Weir. Thankfully Mollytics's enthusiasm for the self-proclaimed Russophile is contagious. I wasn't sure what to expect from his performance, as I had never seem him skate previously — I thought he was going to perform to Lady Gaga's "Poker Face" — and I found him to be graceful, strong and artistic. Boo to those who say he isn't as much of an athlete as the tall, dark and handsome Evan Lysacek. Here's a secret: you HAVE to be athletic to pull off the jumps and spins that ALL of the figure skaters do.
Some of the tweets I read about @johnnygweir during the men's first competition were disheartening. His fans truly that homophobia impacts how he is perceived by the commentators and, maybe, the judges. Sure, his pink corset and single shoulder tassel were a bit effeminate, but were Evan Lysacek's ruffles and wrist feathers any more masculine? (Sorry, Vera Wang.) Did Johnny not execute his program nearly flawlessly? Yet all the commentators could talk about was his costume and his off-the-ice antics. They ignored the fact that he, too, is competing for a medal. Boo, again.
Per Mollytics, I followed Marissa's live blogging during the men's short program and look forward to her (and her mom's) thoughts during the long program. And just so we're on the same page, I would be happy if Evan were to win the gold medal. I just think that Johnny deserves to be taken more seriously. Go Team U.S.A.!
Click here for a great piece on the theatrics of men's figure skating.
(image source)
This recent New York Times article by Alex Williams, "The New Math on Campus," discusses how dating can be challenging when women outnumber men at college. Erm, really? It's an interesting article, but it's old news. When I was a student at Boston University ten+ years ago, the school was 60% female and 40% male. But in the College of Communications, where I studied, that ratio was 70% to 30% — and many of those guys were gay. Needless to say, dating was difficult.
Ironically, my husband also attended BU, but because of a small age difference (ahem) our paths never crossed.
Which did you do more of in college: studying or dating?
(image source)
I'm sad to report that Domino, one of my favorite shelter magazines, has folded.
From New York magazine:
"This decision to cease publication of the magazine and its website is driven entirely by the economy," Condé Nast CEO Chuck Townsend says in a press release that went out just now. "Although readership and advertising response was encouraging in the early years, we have concluded that this economic market will not support our business expectations."
What does that mean for those of us with subscriptions? Do we get our money back?
(image source)
If you don't live in Washington, DC you probably haven't heard the story of a famous violinist, Joshua Bell, posing as a street musician at a metro station. You can read a summary of what happened here. It was a fascinating social experiment.
(via I Heart You)
This will be my last Obama inauguration weekend photo, I swear… until I upload the ones I took in DC.
I love that this private moment between a husband and a wife was caught on film.
(Pete Souza / The White House)
One more fabulous photo of Malia Obama and her camera! Here she is taking a picture of her father, President Obama, all dressed up for the inaugural balls on January 20, 2009.
(Pete Souza / The White House)
And how can you not love Sasha's little dance of excitement?!
How adorable is it that Malia Obama, now a celebrity herself and subject of countless photos, pulled out her digital camera at all the big events she attended leading up to her father's inauguration?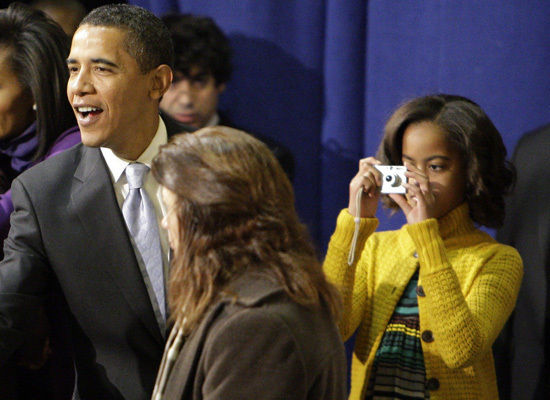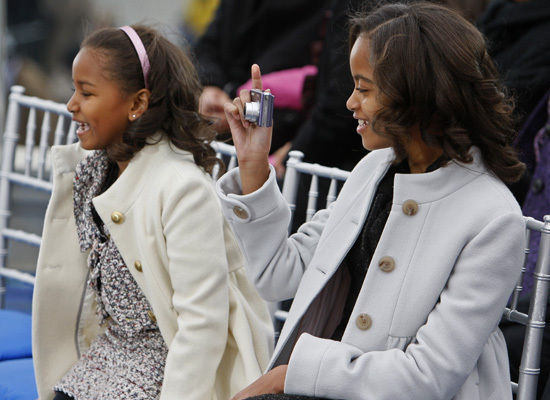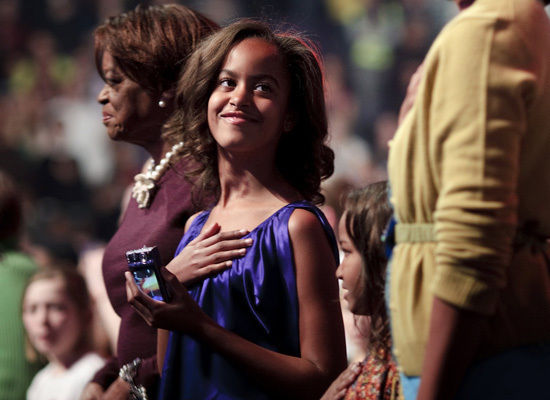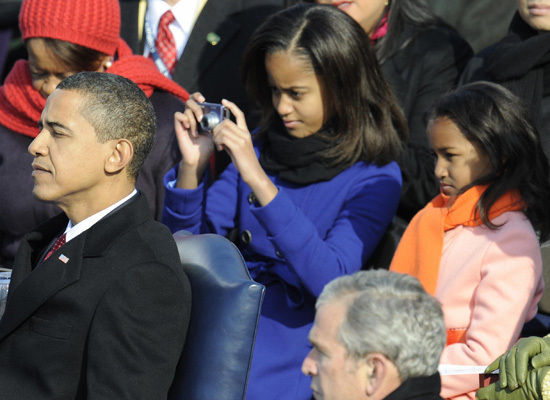 (images via The Huffington Post)