Did this happen while I was away on my honeymoon?
If not, I must be spending too much time in West O to miss the opening of American Apparel downtown.
I've previously written about my love for decorative plates and someday plan to have a collection worthy of display–and the wall space to do so. Right now I'm obsessed with this photo by Design*Sponge, which was taken at Hable Construction in Manhattan. This collage of gorgeous plates climbs up the wall so organically, with no apparent rules regarding spacing or overlapping, making it look fresh and modern.
For more of Grace's photos from Hable Construction, check out her Flickr slide show.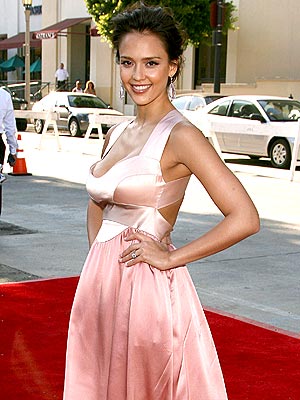 … or does Jessica Alba look strangely out of proportion in this Narciso Rodriguez gown at the 2008 ALMA Awards?
(image via People)
I don't know how I missed this important political story out of Nebraska. Probably because I don't watch the local news.
On Monday, August 4, the Custer County Fair in Broken Bow invited "celebrities" to participate in the cow-milking contest–Republican candidate for the U.S. Senate and former Secretary of Agriculture Mike Johanns, Democratic candidate Scott Kleeb and some other people whose names I haven't heard before.
Apparently Johanns has an affinity for telling people that he grew up on a dairy farm. Unfortunately, his childhood exploits did not give him the advantage; Kleeb beat Johanns by approximately 1/2 oz of milk.
Thanks to Mollytics for bringing this story to my attention.
(image via Salon)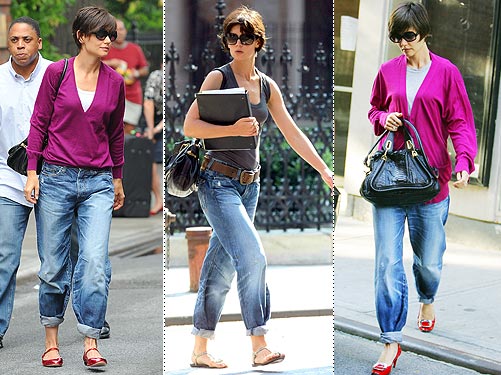 Katie Holmes is kind of obsessed with French cuffing her baggy jeans, something I used to do with my Z. Cavaricci's in the early 90s. Just because NKOTB is on the radio again doesn't mean we need to dress like it's 1991. C'mon.
Would you rock the cuff again?
(image via People)
image by piutus on flickr
Of the 600 Starbucks that will be closing between now and the first have of 2009, two of them are in Omaha:
120TH & BLONDO
CENTER & 63RD
For a list of all of the closing stores, click here.
I know my parents will be relieved that the Starbucks in my hometown is safe–for now.
I'm sure others have, but I've never really noticed that SJP has REALLY old hands. Like, grandma-old. I guess that's why anti-aging hand creams like RoC Retinol Correction Hand Repair are all the rage now.
(image source)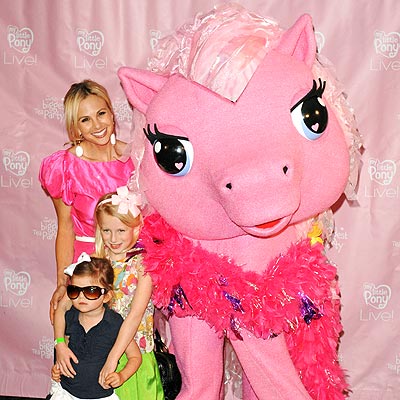 This photo scares the crap out of me. That pony is terrifying.
So is Elisabeth Hasselbeck's outfit.
(image via people.com)
Originally uploaded by HistoricOmaha.net
You don't expect a neighborhood pub in Omaha that you happen to frequent (although not as frequently as LB) to make it into a Wall Street Journal article on dream jobs, but sure enough…
Monique Huston actually has her dream job — and many tell her it's theirs, too. She's general manager of a pub in Omaha, the Dundee Dell, which boasts 650 single-malt scotches on its menu. She visits bars, country clubs, people's homes and Scotland for whiskey tastings. "I stumbled on my passion in life," she says.
Still, some nights she doesn't feel like drinking — or smiling. "Your face hurts," she complains. And when you have your dream job you wonder what in the world you'll do next.
If you visit me, I'll take you to the Dell.
(This is an old photo because Le Marche, one of my favorite shops in Omaha, is no longer in the small shopping center next to the Dundee Dell.)
Met my father at Newark Airport when our flight landed at 10 AM so J could try on one of his tuxedos in the restroom near baggage claim because we learned as we were packing the night before that neither his tux nor his black suit fit him anymore — and we were attending a black tie wedding
Ate "real" bagels and pizza
Waited an hour to be seated for brunch at Penelope with J, my sister, Linds and Alex but it was worth it — we three girls thoroughly enjoyed our pumpkin waffles
Shopped at stores we don't have in Omaha and bought a dress on sale at Anthropologie but nothing at Club Monaco, Zara or H&M
Attended the wedding of a college friend to one of the nicest guys I know out in New Rochelle, NY and reconnected with some girls I haven't seen since they graduated 7 years ago
Ran into a high school friend in Bloomingdales (although I did just see her a week prior at my bridal shower)
Got harassed by some pigeons (I was only trying to take some pictures of trees!)
Sat in traffic on the way to Penn Station and had to get out and run three blocks with our luggage so that we wouldn't miss our train and subsequently our plane (we boarded the train as the doors were closing and had to buy our tickets on board)
Cried a little when we left because I miss being close to my family and living the greatest city in the world