According to this Rolling Stone article, Adam admits to having fake dreadlocks. I'm shocked. I really had no idea they were fake. Did you?
His dreadlocks — which he has always freely admitted are hair extensions — are fascinating up close. They're so incongruous with the rest of his appearance ("I'm a Russian Jew American, impersonating African," he sings on the Crows' new album) that you half expect them to begin moving, like a giant tarantula. Not long ago, Duritz's publicist urged him to shave his head, but he wouldn't do it. "Whatever they hide or cover about myself, you know, they feel good," he says. "And I did not want to be skinhead guy."
In high school, when my obsession with Counting Crows was at its peak, I really wanted to dreadlock my hair before seeing them in concert. My mom nixed that one. I thought it would create some sort of connection between me and Adam, who probably would have cared and autographed my ticket and t-shirt after the show anyway.
In all of his recent interviews, Adam is also revealing that he has been suffering from a dissociative disorder, and that the meds he began taking for them a couple of years ago caused him to gain 70 lbs. So that's why he looked the way he did when we saw him in concert, Linds! Apparently he has since switched doctors and medications and has been eating properly and working out, so he's lost most of the weight.
I'm just not sure I can get over the hair extensions. He must have been in his twenties when he started using them. Who told him it would be a good idea? And what does he look like without them?
(image from rolling stone)
My bridesmaids don't know it yet, but they'll all be wearing veils down the aisle like these lovely ladies did for a 1968 wedding.
Don't you just love how the veil matches the dress/nightgown that matches the shoes?
(image via nymag.com)
The Gallup-Healthways Well-Being Index surveyed more than 100,000 people to measure the nation's general welfare.
Gallup's chief scientist for well-being says people who are thriving tend to have higher incomes, more education and less illness. Those who are suffering have trouble meeting their basic needs, including food, shelter and medical care.
Um, really?  I could have told you that money can buy you happiness.  I thought everybody knew that.
Anthropologie is opening in Omaha this fall.  Now I don't have to do all of my shopping in Kansas City!
(image from anthropologie.com)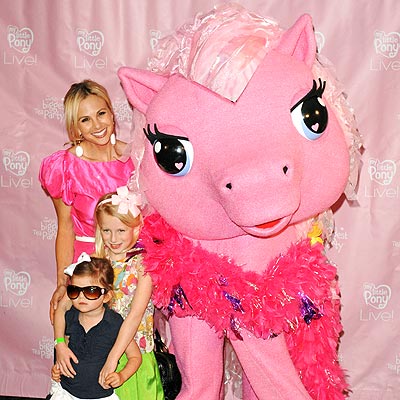 This photo scares the crap out of me. That pony is terrifying.
So is Elisabeth Hasselbeck's outfit.
(image via people.com)
One month to go!
Wow.
(image from jessica claire)
Congratulations to Heather Waraksa, my fabulous wedding photographer, for being included in Daily Candy's Spring 2008 Wedding Guide!
Thanks, Erica, for passing along the info.
(Screen shot via Heather)
I got a late start writing my thank you cards for the wonderful gifts I received at my bridal shower because of all the traveling I've been doing. The weekend after the shower I was back on the East coast for a friend's wedding and it took all of last week for me to recover from complete exhaustion. I'm still tired, but I'm functioning. I wasn't at all last week.
On Sunday I wrote about 20 thank yous and last night I wrote 18 more. I probably have about 10 left to write tonight; I could have kept going yesterday but I ran out of stamps!
Perhaps running out of stamps was a blessing in disguise because it allowed me to go to bed earlier than I would have if I continued writing. I popped an Ambien around 10 pm and was out before 11 pm, allowing me almost 8 hours of sleep. That is approximately 2-2.5 more hours of sleep than I normally get. I know all of the benefits of going to bed earlier than I usually do, but I like staying up late. I'm like a child who gets off on going to bed past her bedtime.
(Image from etsy)
Originally uploaded by Phineas H
Have you heard? The New York Times reports that airlines are going to start charging $25 to check a second bag. That's ridiculous.
Originally uploaded by HistoricOmaha.net
You don't expect a neighborhood pub in Omaha that you happen to frequent (although not as frequently as LB) to make it into a Wall Street Journal article on dream jobs, but sure enough…
Monique Huston actually has her dream job — and many tell her it's theirs, too. She's general manager of a pub in Omaha, the Dundee Dell, which boasts 650 single-malt scotches on its menu. She visits bars, country clubs, people's homes and Scotland for whiskey tastings. "I stumbled on my passion in life," she says.
Still, some nights she doesn't feel like drinking — or smiling. "Your face hurts," she complains. And when you have your dream job you wonder what in the world you'll do next.
If you visit me, I'll take you to the Dell.
(This is an old photo because Le Marche, one of my favorite shops in Omaha, is no longer in the small shopping center next to the Dundee Dell.)