Last night, J and I dined on Papa John's pizza, a homemade Caesar salad and a bottle of wine while watching "In Bruges" on HBO on Demand. It's been on both of our "must see" lists–especially after Colin Farrell won a Golden Globe for his performance. Now that I've watched it, I definitely agree that he deserved that award. He was brilliant as a hit man with a conscience, as was the banter between him and Brendan Gleeson. (Of course, I needed subtitles; I am terrible with accents.)
If you can handle some blood and gore and appreciate British humor, I'd definitely recommend "In Bruges." If you've already seen it, what did you think? 
Now I kind of want to visit that "fairy-tale" medieval town.
(image source)
This week's topic for Susannah Conway's Unravelling e-course was reflections. Of all the photos I took, these three are my favorites.
I'm looking to grow my library of self-improvement books. Can anybody recommend books in the following categories?
Photography: Books on composition and lighting, Photoshop for beginners and the basics of digital SLRs
Business: Books on goal setting and self-motivation and staying organized
Crafting: Books with patterns for a beginner knitter and somebody who want to learn to crochet
Thanks for your help!
(image source)
This evening I'm hosting my first ever Craft Night. I've invited my most crafty friends to bring whatever projects they're working on — be it knitting, crocheting, sewing, quilting, beading, etc — so we can craft together. I find that doing things in groups helps motivate me and inspire me to be more creative. I'm so excited to see what results we produce tonight! If all goes well, this may be the beginning of a monthly tradition at my house.
I'm trying to decide what project I'm going to work on. I could practice my knitting and purling for a scarf I want to make. I could sew another sweater toy for Briscoe. Or I could make the beaded earrings I promised my mother-in-law I'd give her for Hannukah — and then forgot all about. Oops. They were meant to match a necklace I made her for her birthday over the summer. Yes, maybe that's what I'll make tonight. Sorry, Mom #2!
(image source)
When I worked in publishing, many of the books I acquired were first editions and/or signed by the author. After reading them I immediately placed them in my bookcase to avoid any additional damage to the cover or the spine. To preserve their integrity, I very rarely let friends borrow them.
Now I usually get my books from the public library. If I'm not checking them out, I'm buying them used at their book sales. Sometimes I'll get new ones online from Amazon. Since these books are not first editions, I'm not as over protective of them and am OK lending them out… but I am concerned about getting them back!
Perhaps bookplates are the way to go with my non-first edition books. What do you think? Do you use bookplates in your books? What are some of your favorites?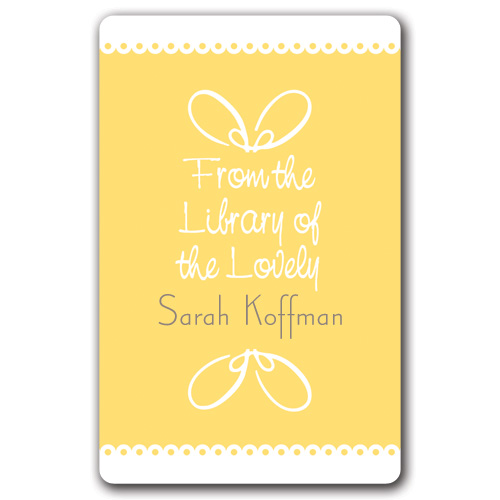 (via pinklovesbrown)
(via sycamore street press)
(via avie)
(via turtlepapers)
(via cricicis)
(via craft pudding)
(via TayloredArts)